Welcome to Adult Education
The El Dorado County Office of Education is pleased to offer courses for adults to meet their various educational needs. Founded in March, 2006 the program continues to expand and grow by addressing the needs in our county. The program offers classes from El Dorado Hills to Lake Tahoe. All of the courses currently offered by the El Dorado County Office of Education, Adult Education Program are free of charge and are funded by state apportionment. The courses are open to any person 18 years of age or older.


Message from the Adult Education Principal – Thursday, July 30, 2020
Dear Families,
I want to thank you for the patience and grace you have shown during this time of uncertainty and change. We all appreciate your understanding that we want to be able to re-open our schools and programs as safely as possible. Thank you to the families who have shared their thoughts, ideas and suggestions throughout this entire process.
As we approach the new school year, we know that there is no one-size-fits-all approach to reopening schools across El Dorado County's 15 districts and our own student programs. Just as each independent school district is deciding how it will reopen schools while working closely with local public health officials and community stakeholders, we are doing the same here at EDCOE. As you know, our student programs vary and provide instruction from birth to adults and in settings from typical classrooms to incarcerated settings, as well as serving students with disabilities, and child care provided by Extended Day. Each program is unique so each implementation plan is tailored to the setting and needs of staff, students and families.
I want to re-emphasize to each of you our commitment that learning is non-negotiable. Regardless of how we come back, learning will be the constant. We know that in-person instruction is what we prefer, but in a manner that is safe for students, families and educators.
In light of the current conditions in El Dorado County, we are pausing on bringing staff and students back to classrooms, but not pausing on learning. Instead, we will implement a hybrid program that will combine distance learning with individual programs. Under this model, our initial six weeks of the school year, August 10 – September 25, will be conducted through distance learning. We will then re-evaluate conditions and modify accordingly. The following factors have influenced this decision:
There is a significant chance that El Dorado County will be on the State monitoring list within the coming weeks, causing our schools and programs to revert to distance learning. External factors are likely to influence this.
Our County is currently experiencing a significant increase in positive COVID-19 cases and an ever-increasing need for testing. This impacts our ability to arrange for high volumes of timely test results as recommended by the California Department of Public Health for schools offering in-person learning.
We want to avoid the chaos of opening and closing classrooms due to potential COVID-19 cases and/or exposures. The instructional disruption would negatively impact students, families and educators.
While each department will provide the specific distance learning guidance/re-entry guidance by Monday, August 3, here is a quick overview.
Charter Alternative Programs -

Charter Alternative Programs (CHSA, CUP, CCA, CCP, Adult Education) will provide distance learning through September 25.
Thank you for your continued patience and understanding during this time.
Dr. Ed Manansala
County Superintendent of Schools
Graduation Slideshow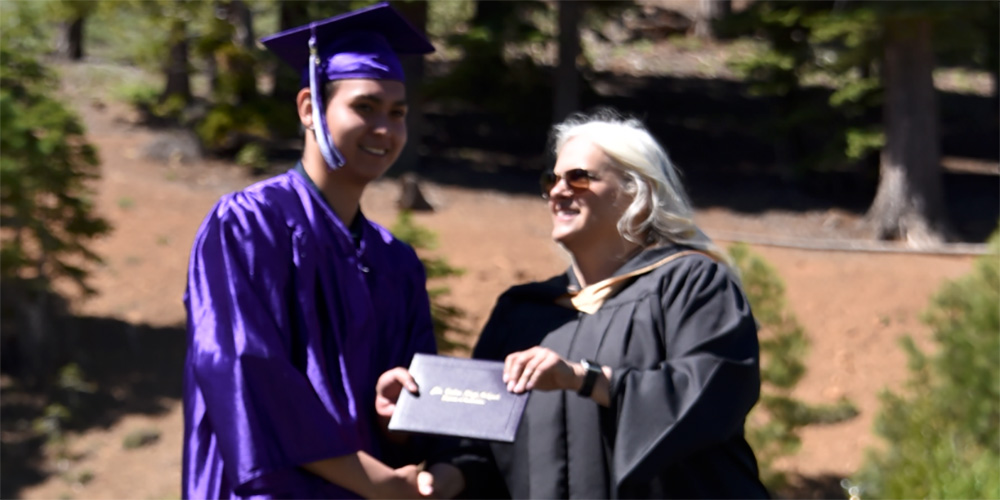 Adult Education Grad, continues Education Journey through NCCT
Starla Steward, an El Dorado County Office of Education (EDCOE) Adult Education graduate, is continuing her journey with EDCOE through the Northern California Construction Training (NCCT) program.
The NCCT is a building trade's pre-apprenticeship training program that helps prepare men and women for entry into various construction trades apprenticeship training programs. The El Dorado County NCCT program, which opened this Summer, provides test preparation such as math basics and how to read blueprints as well as hands-on building experience.
Starla, recognizing the opportunity that Adult Education and the NCCT program were providing, challenged herself to be part of the program as she is currently is the only woman in her class.
"I have three kids, 12-. 13-. and 15-years old." Steward said, "It's really important not only that I have a way to provide for them but that they see what learning and hard work can do for you.
"Our Adult Education programs prepare and empower our students to achieve their educational, career, and personal goals - whether it is earning a high school diploma, a high school equivalency certificate (GED), or passing one of the hundreds of industry-approved certification programs at our Pearson Vue Testing Center," notes Principal Gary Sutherland.
Steward's days start when she arrives on the NCCT campus, located at 6187 Pleasant Valley Road, in the town of El Dorado, in full uniform, including boots, tool belt, and tools. Steward and her cohorts then spend some time in class preparing for a competency exam. Sometimes the class is held outside to also prepare students for the outdoor elements they will experience on the job. Next, Steward and her classmates spend time on a variety of hands-on building projects for the community. They are currently working on planter boxes for the on-site community garden.
Acknowledging the positive impact the NCCT program has had on the community, Raley's grocery stores and the Sacramento King's have agreed to donate funds for the beautification of the NCCT program campus.
While the NCCT program itself is an unpaid experience, Starla and other students upon completion have the opportunity to join the construction trades apprenticeship training program of his/her choosing, with wages that start anywhere from $14.00 to $23.00 per hour.
Steward says that it is worth it. "It's hard being in school five days a week, especially with kids, but even though you struggle, you need to put one foot in front of the other. Everyone I know who has done this program is successfully employed. Knowing that and that I need to provide for my family, keeps me going."
Starla Steward continues her journey with EDCOE through the Northern California Construction Training (NCCT) program.
Charter Adult Education Graduate Celebrates
Starla Stewart, an inmate of Placerville Jail, recently celebrated a significant step in her rehabilitation by earning her high school diploma. Stewart credits her accomplishment to her family who motivated her and to her teacher, Ms. Urbani, who offered her encouragement and support.
"I have been working very hard to change my life and wanted to set a positive example for my boys, ages 14 and 11 years old." Stewart is one of the many inmates to take advantage of the Adult Education Program at the Placerville Jail, which is operated by the El Dorado County Office of Education (EDCOE). I know that earning my high school diploma will assist me in supporting myself, as well as my two growing boys," stated Stewart after her recognition ceremony. Approximately 20% of the inmate population receive individualized instruction to earn a high school diploma, a GED certificate, or enroll in online Short-term Career Technical Education Certification and college-level classes.
In addition to serving the population of Placerville Jail, EDCOE provides many Adult Education programs throughout the county. Once enrolled in Charter's Adult Education programs, students are able to pursue an education tailored to meet their unique needs, including a high school diploma, GED, and ESL classes.
More information about Charter's Adult Education programs can be found at http://aded.edcoe.org, or (530) 295-2291.
Charter Adult Education student graduates with her high school diploma.